Le Quai des Éclusiers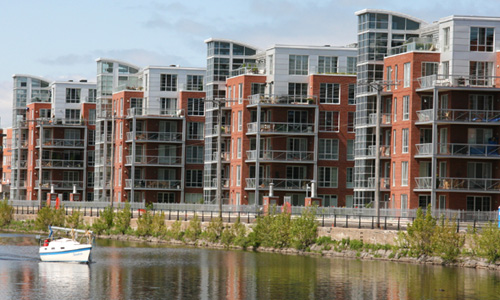 The Quai des Éclusiers condominium complex was constructed between 2004 and 2007 by Groupe Alta-Socam. With some 350 condos in four buildings, the project is situated on St-Ambroise Street, west of the Atwater Market in the southwest district of Montreal known as St-Henri. This privileged location on the shores of the Lachine Canal means co-owners can enjoy an urban lifestyle a few minutes from downtown while easily accessing the green spaces and fresh air along the Canal's bicycle path.

When it comes to an active lifestyle, Quai residents have full use of an interior pool, sauna and exercise room, as well as to kayaks, with direct access to the Canal via a dock behind the complex. The Quai des Éclusiers condos attract people of all ages: young professionals, families and retirees. Ten percent of the units are let out as rental properties. The 'industrial loft' style condos have between 450 and 2,100 square feet of floor space, with 10-foot ceilings and very large windows. With the exception of the smaller 450-square-foot studios, all condos have private terraces. Residents of phases 1 and 2 have access to and share common spaces, and it will be the same for phases 3 and 4. The facilities' maintenance is undertaken by concierges who live on-site in units belonging to the co-owners association.

Le Quai is served by two nearby Metro stations: Place St-Henri, which is 0.8 km away and Lionel-Groulx, 1.4 km. In addition to the Atwater Market, two supermarkets are within walking distance (IGA and SuperC). Also nearby are a food wholesaler (Distribution Aubut), three drugstores, and many other services, including a CLSC, bank, caisse populaire, video stores, restaurants, and so forth.


Le Quai des Éclusiers provides a space for gracious living in which the residents live in harmony. Each summer a festival is held in the interior court between phases 1 and 2 and attracts close to 100 people.